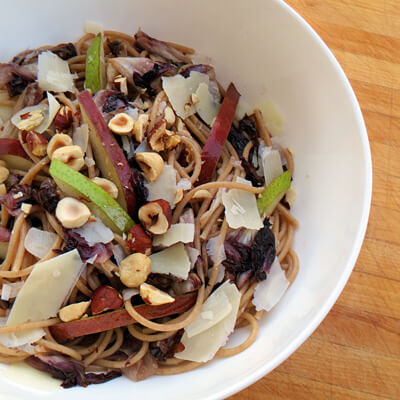 Whole Wheat Spaghetti with Pears Radicchio and Brown Butter
Here is a simple weeknight pasta dish full of fall's flavors and colors. The sweetness of the ripe pears plays wonderfully together with the bitterness of the radicchio. Adding tangy, rich Parmigiano-Reggiano cheese (get the real stuff for this recipe!) takes the dish to a whole new level. Serve this pasta as a meal in and of itself, or use it as a side dish for a simple roasted chicken.
INGREDIENTS
1 pound whole wheat spaghetti
1 tablespoon salt
6 tablespoons salted butter
1 head radicchio, cored and cut into 2 inch pieces
2 ripe USA Pears, such as Green or Red Anjou, sliced
⅓ cup chopped hazelnuts
3 ounces (about 1 cup very loosely packed) shaved Parmigiano-Reggiano cheese
DIRECTIONS
Place the pasta water on to boil, adding 1 tablespoon of salt to the cooking water. Once the water boils, add the spaghetti and cook according to the package instructions. In the meantime, place the butter in a wide sauté pan over medium heat. Cook for 3 or 4 minutes or until the butter is beginning to brown lightly and become fragrant. Add the radicchio to the browned butter and cook for 1 to 2 minutes, just until wilted. Turn off the heat and add the sliced pears, gently stirring to combine.
When the pasta is done to your liking, drain it in a colander. Add the hot pasta to the sauté pan with the sauce and toss with tongs to combine. Transfer to a bowl or platter and garnish with the cheese and hazelnuts.
NUTRITION
Serving Size: 8 oz
Calories: 440
Carbohydrate: 34g
Dietary Fiber: 7g
Protein: 15g